Manchester United 2 Irons 1
Match verdict
by Hugh Southon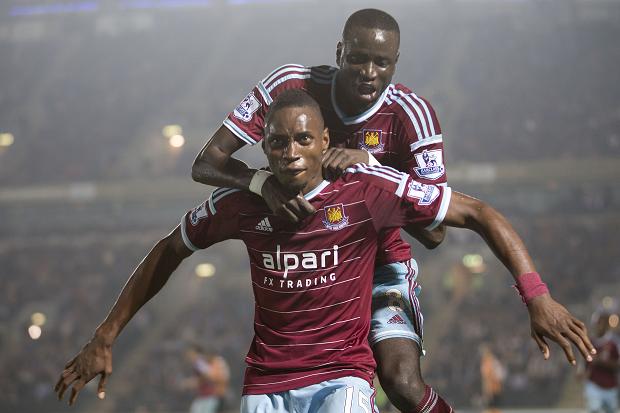 To come away from Old Trafford feeling sick that we didn't win tells me one thing: This squad has come one hell of a long way and we should all feel very content with the way things are heading.
Our man of the season Cheikhou Kouyate was missing and the late withdrawal of Mark Noble could  have proved seriously harmful.
Instead it gave us the opportunity to take a look at Morgan Amalfitano and Diego Poyet and both looked more than comfortable in what is always seen as one of the toughest tests of the season. These are big reasons to be very cheerful.
That United cruised into a two goal lead was down to the fact that captain for the day Alex Song made a colossal ricket for the first goal – but for that we would have come away with a point we always richly deserved.
What I believe we saw this afternoon was that Sam Allardyce and David Sullivan ( because trust me that's what it amounts to ) have assembled a squad which Noble describes as the best he's been involved in over his 10 years at the club.
We looked very strong throughout but what's changed is that there is now a touch of class about the Hammers with a squad of players having been assembled who can play in several different ways.
I really like the look of Amalfitano and I believe Enner Valencia will be one of those who brings moments of delirium and desperation but I'd sooner have him in my team than in the opposition's.
The player who excites though – a guy who I believe will still be going at the end of the season as he has started – is Diafra Sakho.
He's always involved, always sniffing out chances, playing simple lay offs to get things set- up and SCORING GOALS.
At one stage – when a far post volley was saved by David De Gea at close range – Diafra's first reaction was to wind-up the Irons fans. Love it.
But what's better than anything is that we really do have our West Ham back although the sight of Carlton Cole and Kevin Nolan arriving on the pitch wasn't the best.
West Ham 2014/15 are light years in front of what we have been looking at over the last two or three seasons and this is no time to call the manager or anyone else. Let's just see how well this develops because it truly is looking very good.
One final thought on the game: Wayne Rooney's sending off was 100 per cent deserved. He scythed Stewart Downing down with a knee high kick.
And unbelievably the United fans cheered and clapped him off. If that's what they have come to, Manchester United is really is in trouble!