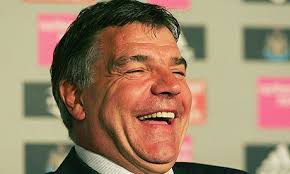 By Hugh Southon
The first reaction was disbelief…the second was enjoyment at a level nobody though possible when watching West Ham United play football this season and the third was cynicism!
Against Tottenham Hotspur this afternoon the Hammers showed that in terms of being able to play attacking football, they are as good as any team in the Premier League.
Those are words I never believed I would say having given Sam Allardyce as much stick as the army of critics who have been on his case for weeks.
Today, let's be honest, he defied every one of us by sending out his team to play some of the most thrilling offensive football we've not seen in many a long day.
And before we go any further let's be clear, the fans' protests probably had  much to do with that.
Before our disbelieving eyes the entire team produced a display that will live in the memory for years.
One we had realised this was actually West Ham playing and that they were shoving Sherwood's sherbets aside for the third time this season it was time to thrill to the moment.
But then came the cynicism and simply put it is this: "Why on earth did it take so long for Sam to release the team to play in such an adventurous way?
Throughout the season including both periods before and after the injury crisis, there's been a fear and anxiety in the team which has inhibited them every inch of the way.
Had we performed as we did today  I believe we would have enjoyed a much less painful season and have been safer a lot earlier.
Football – as we saw this afternoon is simple. It's all about putting the ball in the opposition's net on more occasions that they put it in yours. It's about passing, pace, skill and killer balls in behind. Today, wonderfully, incredibly, that's what our team gave us.
Clean sheets are all well and good and to be welcomed when they come along but today after weeks of discussing that 'mythical' West Ham Way, Sam Allardyce found it.
Whatever happens from here on, one thing is certain – there can be no going  back .
Follow on Twitter @hughsouthon