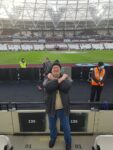 Match verdict by Hughie Southon
Job done and at the end of things that's all that matters.
We have 15 points, have won the group and as a result it would be ridiculous to complain. However, there is a but!
That we could only beat what was an average side with a well struck spot kick from Lanzini is disappointing when frankly we wouldn't have been over expectant to imagine a 3-0 could have been on the cards.
For all his creativity and it was very enjoyable, Benny was wasteful and Scamacca – for the second consecutive game – appeared to have trouble getting the ball out of his feet.
David Moyes continues to declare that we need more goals but it just isn't happening and needs to be sorted particularly against teams such as this.
The two players on the night for me were Downes and Coventry whom I was delighted to see start having found his regular absences confusing and disappointing.
He really is a very decent midfield option and it is to be hoped that the manager decides to trust him with a few appearances.
An honourable mention too for Areola who made two or three very decent saves and is beginning to look a real challenger for the No1 position.