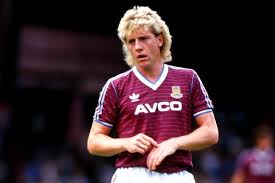 West Ham legendary striker Frank McAvennie believes current manager Sam Allardyce should have been "bigger" than to respond to the boos of the Hammers fans at the end of the crucial clash against Hull City.
A section of disappointed  locals  rounded on the team and manager at the end of a game which has been near-universally seen as one of the worst performances of the team's difficult season.
And as the fans booed the team manager Allardyce cupped his ear in a bizarre gesture which many have interpreted as being a snipe at the fans.
McAvennie – talking to ClaretandHugh – said: "I think Sam should have been bigger than that. There was no need to do it. He should have just walked down the tunnel.
"Some say fans shouldn't boo their own team but they pay their money and can express themselves however they wish. That's their right"
McAvennie – now an agent based in his native Scotland – played for West Ham over two spells in the eighties scoring 49 goals in 149 games.
He is a regular at Upton Park and says he's as passionate now as when he played for the team and became a huge fans' favourite.
He believes that the fans are always going to get a particular type of style under Allardyce and doesn't believe the manager will be leaving anytime soon.
He said: "The fans obviously wanted a bit more from the team and maybe they are right to but at the end of the day it was three points which I think will put the team safe.
"I really don't see the board sacking Sam Allardyce although I'm not beyond being surprised at anything."
McAvennie, however, believes a few players could be coming towards the end of their time at the club.
He said: "I've believed all season there are players at the club who aren't good enough to be playing for West Ham United and I think that will change in the summer.