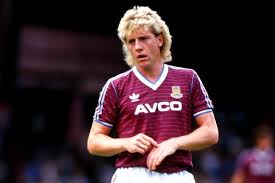 EXCLUSIVE
Super-legend Frank McAvennie happily picked up the mobile on a Caribbean beach and chortled: "Tell those fans not to boo at any stage against Sunderland!"
Supermac may be lapping up the sun but he remains a deeply worried man as the Irons go into what he believes is the biggest match of the season so far – against Sunderland.
The usual jovial Scottish tones came down the line as he caught a few rays but turned deadly serious when he started discussing the team's current plight.
He said: "I can't tell you what this will mean for Sam Allardyce if he fails to win because I' have no inside knowledge on how close he is to the owners and the board.
"David Gold and David Sullivan have shown a lot of patience so far. Whether that will continue only time will tell but the Sunderland game may well be a watershed.
"It's a game we can't lose. It really is the biggest game of the season. When you look at matches like this in the situation we are in, it is simply a must win match."
McAvennie unashamedly admits that when discussing the various managerial schools that have presided at the club he is very much in the 'John Lyall Group.'
And he made it clear he wants to hear no excuses from the manager or anybody else if it all goes wrong on Saturday afternoon.
"Neither I or the fans want to hear about injuries, 'bad' decisions or bad luck. This is Sunderland and all we want to hear is how we won.
"There have been times this season when Sam has given a post-match interview and I've sat there thinking: 'We were at different games mate!
"I get the impression that he may be talking for the benefit of the people who weren't at the match!"
Having said all that the great man pleaded with the fans not to boo at any stage saying: "These games really are Cup Finals and the tension will be appalling – the last thing any of the players need is that.
"I love the fans and think they are the best anywhere but frustration can creep in and it can be hard not to let it out – don't let it!
"Whatever our views about some of the players, the manager, the owners and all the rest this is our club and we support it through good and bad."