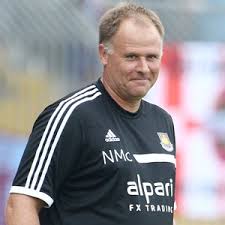 Neil McDonald has told Carlisle United he won't be joining the club as its new manager
The Irons assistant boss was a favourite to replace sacked Graham Kavanagh at the club where he previously had a spell in charge eight years ago.
However, in a statement on the Carlisle, the club has made it clear that 'Macca' is staying at Upton Park.
Carlisle managing director John Nixon said: "Obviously there has been a lot of speculation in the local press about Neil McDonald, and I think it's only fair to say that he has formally withdrawn his name from the process and we respect that decision totally,"
"That has made a difference to the shortlist because he was a strong candidate, as far as we were concerned.
"He's given it a great deal of thought over the last five to 10 days and he has spoken to us about the situation today.
"He has told us that he has discussed it with his family, having thought about it long and hard, and he has decided that it isn't the right career move for him to make at this point in time."
Former Millwall boss Steve Lomas has also been linked with the role at Brunton Park.