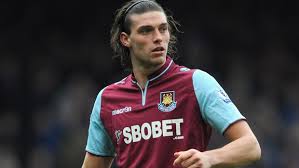 EXCLUSIVE
Andy Carroll's return to action with the Irons first team squad has again been delayed by the Belgian and Dutch medics overseeing his recovery.
And he is now expected to start serious contact  work withe the rest of the lads in ten days to a fortnight.
If that turns out to be be the case he might – as suggested in the national press – be  in line for a return against Newcastle on January 18 although  that may be cutting things fine assuming anyway the specialists don't delay things further.
Upton Park insiders are hugely frustrated by the continual delays to his return as the striker is now "as strong as an ox and gagging to get involved."
Club officials believe  the clinic has its  own reputation to the forefront of its thinking and may indeed be being over cautious.
A source said: "In some respects it's understandable they are being ultra careful because if he returned and broke down there would be hell to pay.
"But there has to come a point where he is let loose and we need that to be very soon.
"It's already hugely disappointing that he's not already back as there were great hopes a couple of weeks ago he'd be in line for a place on the bench for the game against West Brom today.
"We are beginning to wonder just how much more work needs to be done on the foot – he's out of pain, as fit as can be,  and raring to go."