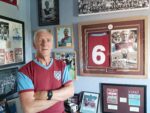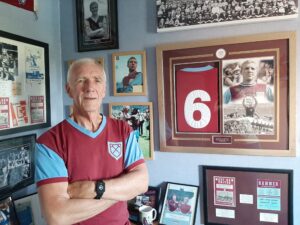 By CandH's top blogger Allen Cummings
While skipper Mark Noble is regularly, and with justification, referred to as Mr West Ham, because of his time as a Hammer and his devotion to the club, there is someone else in the background who could equally hold a similar claim to that title.
Steve Potts has been a dutiful servant to West Ham, first in a playing career – and now in a coaching capacity – producing Hammers for the future.
Making his first team debut on New Year's Day 1985 and playing his final game during the 2001-2002 season, Steve's career spanned three decades, during which time he amassed 398 league appearances and a grand total of 506 senior appearances.
He finally moved on to play for his local Dagenham Redbridge side in 2002. But once a Hammer always a Hammer, and Pottsy was back at the club in 2011, answering a call to take up the management of West Ham's Under 16 side. Since then he has been involved with the Under 18's, Under 21's and now has a leading role with the club's highly promising Under 23's.
Steve has never been a headline seeker – preferring to quietly get on with his job without any fuss  – whether it be on the pitch or on the sidelines. As a promising 17 year old right back he had to wait patiently for his first team opportunities, with the legendary Ray Stewart ahead of him in the pecking order.
But it was Steve's ' versatility that proved the ultimate key for his eventual break through. He found himself being used in a variety of midfield roles, before answering a call from our then manager, Billy Bonds, to play at the centre of defence. Despite Steve's lack of inches, his speed of thought and speed of foot soon established him as a vital cog at the back.
Pottsy spent three years as club captain between 1993 and 1996, and such was his popularity amongst West Ham fans he was twice voted Hammer of the Year in 1993 and 1995.
Amazingly, in his whole senior playing career at West Ham, Steve only scored one goal – that coming in a 7-1 romp against Hull City in October 1990.
It was a collector's item in itself and an occasion that prompted a celebratory t-shirt I once spotted on sale at the little stall that traded at the top of Priory Road – it read: 'I was there when Pottsy scored'!
Steve may have a touch of the Bruce Springsteen about him, having been 'born in the U.S.A', but he's every bit an East Ender as pie and mash, and every bit a Hammer as bubbles!
Mark Noble might be the more famous Mr West Ham – but Steve Potts is just as valued and respected.