The match officials for West Ham United's two fixtures this week have been confirmed. and here they are with full coverage provided by the offficial site at www.whufc.com.
West Ham United v FK TSC Bačka Topola
UEFA Europa League Group A, London Stadium, Thursday 21 September 2023, 8pm BST
Referee: Filip Glova (Slovakia)
Assistant Referees: Daniel Polacek and Peter Bednar (Slovakia)
Fourth Official: Michal Ocenáš (Slovakia)
VAR: Alejandro Hernández (Spain)
Assistant VAR: Dennis Higler (Netherlands)
Thursday's UEFA Europa League Group A match against FK TSC Bačka Topola will be officiated by Slovakian referee Filip Glova.
The 35-year-old from Košice has been a FIFA-registered referee since 2016 and regularly officiates in the Slovak First Football League, where he has taken charge of two games so far in the 2023/24 campaign.
He has refereed in England previously, taking charge of Arsenal's UEFA Europa League group-stage win over Dundalk in October 2020.
Glova officiated the 2-2 draw between Allsvenskan team BK Häcken and Scottish Premiership side Aberdeen in the first leg of the UEFA Europa League qualifying rounds in August, and officiated seven matches in UEFA-recognised international competitions last season across the Champions League, Europa League, Europa Conference League and Nations League.
He has also taken charge of two finals in his career, refereeing the 2019/20 Slovnaft Cup final, which saw Slovan Bratislava win 1-0 against MFK Ruzomberok, and MSK Zilina's 3-2 victory over ViOn Zlate Moravce 2020/21 Fortuna Liga Conference League play-off final.
Glova will be joined by fellow Slovaks Daniel Polacek and Peter Bednar on Thursday, who will serve as the assistant referees. Like Glova, both have regularly served in UEFA European competitions, having been FIFA-registered officials since 2021 and 2020 respectively.
The fourth official will be 32-year-old Slovakian referee Michal Ocenáš. A referee since 2006 and FIFA-registered official since 2017, Ocenáš has officiated two Fortuna Liga relegation play-off finals – in 2018/19 and 2019/20 – and was the man in the middle for the 2022/23 Slovnaft Cup final, in which Spartak Trnava beat Slovan Bratislava 3-1 after extra time.
Finally, Alejandro Hernández will lead the Video Assistant Referee team for Thursday's European fixture. The 40-year-old Spaniard has been a FIFA-listed official since 2014 and has most notably refereed the 2021/22 Copa del Rey final, in which Real Betis beat Valencia 6-5 on penalties, and Barcelona's 3-0 win over Sevilla in the 2016/17 Supercopa.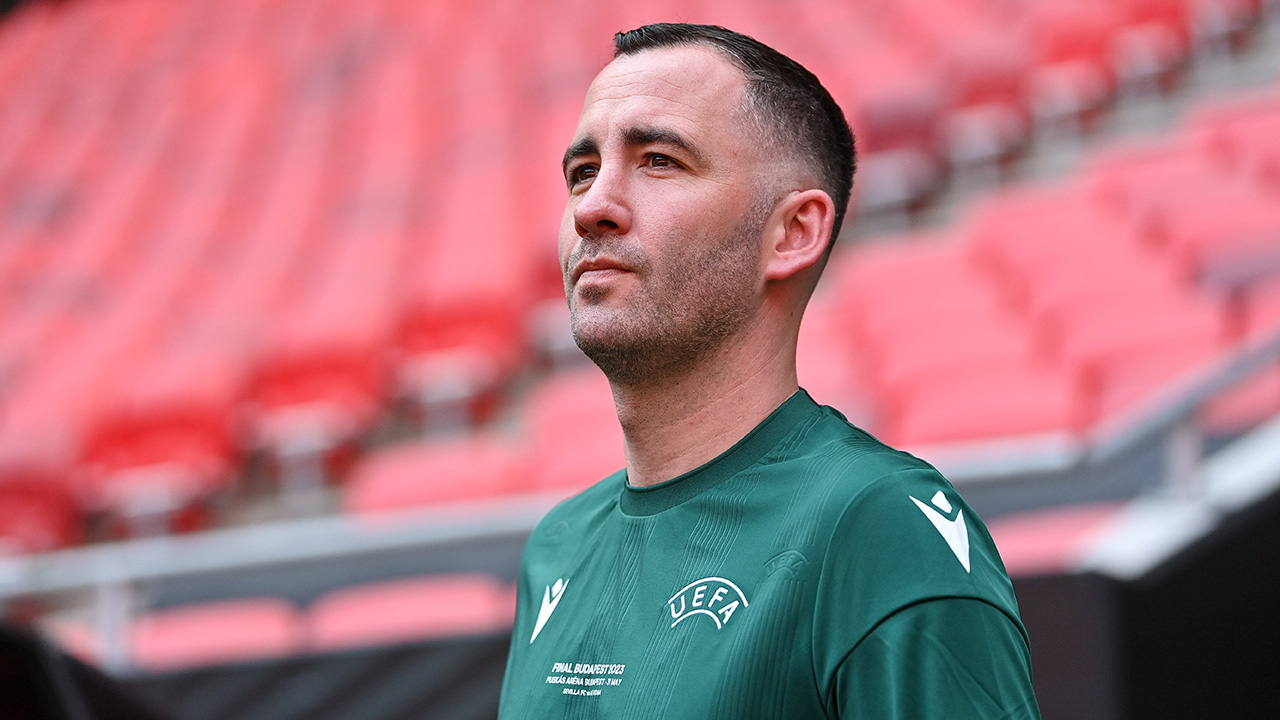 Liverpool v West Ham United
Premier League, Anfield, Sunday 24 September 2023, 2pm BST
Referee: Chris Kavanagh
Assistant Referees: Mat Wilke and Mark Scholes
Fourth Official: Craig Pawson
VAR: David Coote
Assistant VAR: Nick Greenhalgh
Chris Kavanagh will serve as the referee for West Ham United's away Premier League match with Liverpool on Sunday.
The Hammers will make the trip to Anfield this weekend and Kavanagh, from Ashton-under-Lyne, will lead the match officials team for Sunday's match.
The 38-year-old began his refereeing career at the age of 13 and was promoted to the National League in 2012. He started working in the English Football League in 2014 and was invited into the Select Group of Referees, and therefore the Premier League, in 2017.
Kavanagh notable refereed the 2020/21 EFL Championship play-off final between Brentford and Swansea City AFC, which the Bees won 2-0, and will be officiating his first Premier League match of the season on Sunday.
He worked 13 Premier League games last season, including four West Ham matches; the 3-1 home win against Fulham and the defeat at Manchester United in October, the 1-1 draw with Aston Villa in March and the loss to Liverpool in April.
Kavanagh will be supported by assistant referees Mat Wilke and Mark Scholes. WIlke worked with Kavangh on Sunday in the EFL Championship, at Leeds United's 3-0 win at Milwall, and also served as an assistant referee at 23 Premier League matches last season.
Wilkes received national media attention last season when he bravely discussed his battle against Hodgkin Lymphoma, having been diagnosed in late 2019 and returning to Premier League officiating in February 2022.
Scholes, meanwhile, has been an assistant referee at three Premier League games so far this season and has worked in the English top-flight since the 2008/09 campaign.
For the third time this season, Craig Pawson will be the fourth official for a West Ham United match. Pawson also undertook the role for the Hammers' 2-1 win at Luton Town and  our 3-1 win over Chelsea at London Stadium on August 20 2023. He has also been the referee for three Premier League matches this season; Manchester City's 3-0 win at Burnley, Wolverhampton Wanderers' 1-0 win at Everton, and Newcastle's 1-0 home win over Brentford.
Video Assistant Refereeing responsibilities, meanwhile, will be managed by David Coote. Coote was also responsible for VAR during the Irons' 3-1 win at Brighton & Hove Albion, and was the match official for the 2023 EFL Cup final between Manchester United and Newcastle United.