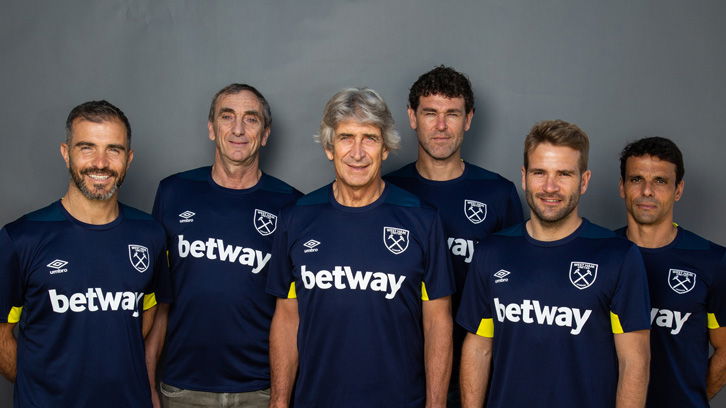 West Ham Assistant Manager
Argentine Ruben Cousillas has been Pellegrini's right-hand man for nearly 20 years at eight different clubs. The 61-year-old has earned the nickname El Flaco, or 'Skinny' and has been at his side since Argentinian side San Lorenzo when Pellegrini replaced Oscar Ruggeri. At the time, San Lorenzo turned to the relatively unknown Chilean and he kept on Cousillas as a man who knew the club.
West Ham First Team Coach
Enzo Maresca spent the 2011/12 season under Pellegrini at Malaga, scoring nine goals in 19 games as the club qualified for the Champions League for the first time in their history after finishing fourth in La Liga. Maresca also played for Juventus, Fiorentina and Sevilla during a lengthy playing career and, strangely enough, started his professional journey at West Brom back in 1998. The 38-year-old worked as an assistant coach at Sevilla recently alongside the now-departed Vincenzo Montella.
West Ham Goal Keeping Coach
Xavi Valero played as a goalkeeper for a variety of clubs including Wrexham while he retired in 2007. Previously he was a video analyst for Chelsea while he was goalkeeping coach for  Liverpool, Real Madrid, Inter Milan, Napoli and most recently Hebei China Fortune. The 45-year-old  Spaniard replaces Chris Woods.
West Ham Fitness Coach
Jose Cabello has been with Pellegrini since their days at Malaga. At Manchester City Cabello had the City players training three times a day when he first rocked up at the Etihad to whip them in to shape. The 44-year-old Spaniard also followed Pellegrini to China giving the Hebei China Fortune players in shape.
West Ham Assistant Fitness Coach 
Felix Cao is a young Portuguese coach who spent three years at Hebei China Fortune. He holds a  Science Degree in Physical Activity & Sport Injury.