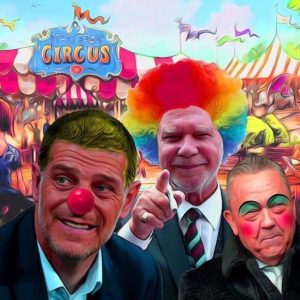 If you read social media today you could be fooled into thinking West Ham have already been relegated this season.
The internet has been going into meltdown with both anti -manager and anti-board feelings running high after the day after transfer deadline day.
There are new crowd funded campaigns for large protest banners and talk of protests and unrest at the Huddersfield home game at the London Stadium on Monday 11th September.
It is far cry from 24th July when Chicharito signed for the Hammers to the excitement and amazement of the same supporters many of whom congratulated the same manager and board.
Since then we have faced a perfect storm of three Premier League defeats in a row, lack of confidence in the manager and his tactics, a sending off of our record summer signing, a  pantomime performance by a sulky wantaway Sakho, a still injured Andy Carroll and the absence of any replacements for Robert Snodgrass and Sofiane Feghouli.
When we signed four quality signings of Hart, Hernandez, Arnautovic and Zabelta most fans seemed happy but talk of  William Carvalho changed all that and at the end of day expectations weren't managed as no deals were completed meaning the net spend was £19m.
A healthy win against in form Huddersfield might be a start to repair some of the damage to the reputation of the manager of the board.
In the meantime, they probably need to keep a low profile during their international break as they attempt to weather this new storm.