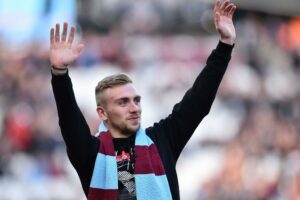 I readily admit this is now my hobby horse but to not start Jarrod Bowen when you are ready to trust 19 year old Jeremy Ngakia – who has just eight under 23 games behind him this season – is beyond any words of mine.
Jeremy was fantastic against Liverpool so why would you not expect the same from Bowen at £23 million after what we have seen from him so far?
I have wanted Bowen at the club since last November when my best mate, Hull season ticket holder Tony Yorke, told me all about him.
He recently wrote a piece for CandH declaring that given the opportunity, Jarrod would become a Hammers legend yet until now we have seen around 20 minutes of him and it was  all good.
Moyes admitted during his presser Ngakia today that Ngakia had been amazing and earlier in the season said that Sheffield United with a team full of Championship players  showed they could all step up to the Premier League plate.
Questioned today about whether Bowen would play on Saturday he trotted out the same old response that it wasn't fair to put to much expectation on him.
Yet  he put it on Jeremy with there being no immediate need given Zaba's fitness and look at the response.
Bowen's big virtue is that he rarely loses the ball and can go past players so if it's a straight choice between him and Felipe Anderson there is no real choice to be made. It's Bowen all day long!
We didn't pay £23 million for a player with 17 goals to his name this season and 22 last to warm the bench.
So do the right thing Moyes and play the boy – what on earth is there to lose other than your own credibility!