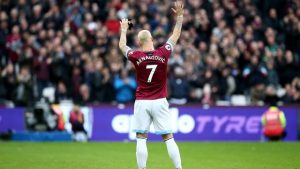 Paul Merson questioned Marko Arnautovic's brother motives by pointing out he doesn't even know the names of the trophies in China in his statement to Talksport earlier this week.
The speculation surrounding Arnautovic baffled the Sky Sports pundit Merson who told viewers on Soccer Saturday "If his agent had come out and said that's a lorry load of money, we cannot turn that down then I think people will understand that, don't say trophies. I mean if you said to his brother, 'what are the trophies over there?' 'What are the cups called?' He wouldn't know. It's got a name, it must a have sponsor surely, you cannot be giving 250k-a-week and not have a sponsor," 
The top flight league is called the Ping'an Chinese Super League and the cup is called the Yanjing Beer 2019 Chinese FA Cup in case you are wondering.
The unnamed Chinese Superclub in question is thought to be Shanghai SIPG who lead the league by five points.
One fan poked fun from his brother's comments faking a comment from Arnie pretending to say  "From a young age it was always a dream of mine to play in the Chinese League. As a child, playing football on the streets of Austria, I would often try to imitate my idols, Li Bing, Fan Zhiyi and Su Maozhen. I hope to one day follow in their footsteps"