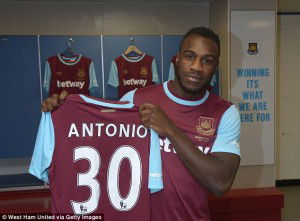 Michail Antonio joined West Ham in September 2015 for £7.5m on a four-year contract said to be worth £25,000 per week at the time until the end of June 2019.
His wages effectively doubled overnight when compared to the £12,500 per week he received at Nottingham Forest as he made his first jump to the Premier League in 2015.
Less than twelve months into his contract West Ham offered to reward the player with a new contract worth £35,000 per week. That contract runs until the end of June 2020 with an option for another year.
Less than twelve months since his last increase last year his representatives are negotiating with the club yet again to almost double his £35,000 per week wages again. With add-ons his weekly pay package is likely to reach between £65,000 to £70,000 per week with the current offer on the table.
Fonte signed a two and a half year contract worth £65,000 per week while Robert Snodgrass is thought to be on just over £50,000 per week.