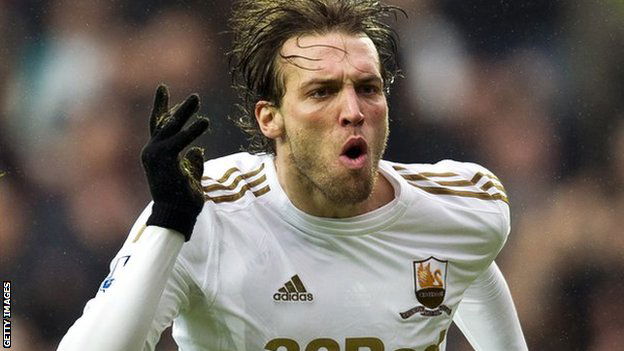 West Ham have been strongly linked with Swansea's Michu over recent days – a player who can thrill and irritate in almost equal measure.
 It's known that the two clubs have spoken and that we are taking our time on moving forward given the player's various injury problems. 
 In the meantime we asked  www.theswanseaway.co.uk  to mark our card and yours on the striker. 
 I completely understand West Ham's interest in Michu.
Big Sam has been told to play more attractive football, and the Spaniard seems to be a perfect bridge – he's tall, good in the air, and he's spent the last few seasons playing for a team renowned for a pleasing-on-the-eye style.
Whether that's enough to for West Ham to overlook his injury problems of last season is a different question though.
There have also been murmurings about his attitude, and possible unhappiness since Michael Laudrup's departure although the  club have refuted this and there don't appear to be any real concerns,
But Michu does like a strop if things aren't going his way on the field and I'm most definitely not a fan of that. If you're stropping you're probably not pressing your opponent. Get the bloody ball back and then have a moan!
Truth is Michu is a player who delights and frustrates in equal measure. On his day, you'll struggle to find a cooler, more natural finisher. Off his day? Well, injuries caused the biggest problems for him last year but his form was quite poor for a good whack of 2012/13  and the beginning of 2013/14.
In his first 18 games in the Premier League  he scored thirteen goals and  in his next 34 he managed just seven. Ok, 17 of those games were last season when he was rocked by injury but if I'm brutally honest  I'm not as much of a fan of the Spaniard as most.
I think he's a great player but the problems seems to be that at 28  he still doesn't know what position he plays. He started his first season playing behind Danny Graham, before alternating between attacking midfield and centre-forward.
Unfortunately though, no matter where he was supposedly operating he still plays, well, like Michu.
He drops deep as "he prefers arriving in the box late" but in the Premier League – and especially for a club like the Swans – a player wandering around with disregard for tactical positioning can at times become a bit of a liability.
It's disruptive for the midfield and I feel that Michu is at his best, or was at his best, when he was leading the line and we were essentially forcing him to play as a striker.
As for whether any deal is likely to be done remains to be seen. All I can say is that, we only paid £2 million and in his first season he scored twenty-two goals.
To a club like the Swans, the opportunity to make a profit on a player who really, really struggled with injury last season seems too good to pass up.
Where once there were figures in excess of £20 million pounds floating around, I feel at this moment in time the reported £6million fee West Ham are believed to be considering would be sufficient to begin negotiations with the player.
He's on decent wages too (£30k plus), and again for a club the size of the Swans the chance to trim the wage bill may well be a very appealing option – a possibility further strengthened by the prolific debut season of Wilfried Bony. Without a need for Michu's goals, the Swans are quite likely to be open to talks regarding his future.
As I've said though, he is a very good player. He's already shown he can score goals in the Premiership and if he can stay fit for the foreseeable future six million is a bargain. Whether the West Ham hierarchy are willing to take the risk remains to be seen.
After all there's a chance he could be a one season wonder!