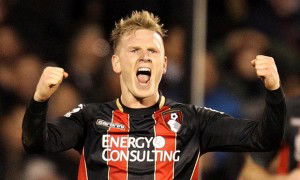 The bookies have Bournemouth's Matt Ritchie as an overwhelming favourite to join the Irons before the summer transfer deadline.
SkyBet have the midfielder at an extraordinary 1/4 which suggests the deal is all but done despite Cherries boss Eddie Howe claiming he's not interested in selling the player.
The Hammers launched a bid for Ritchie and striker Callum Wilson and after being beaten by Manchester United on the final day of his season Howe hit out at the timing of the bid.
Hwever, the Hammers claimed they had not made the bid public and that it could have found its way into the media from the Cherries end.
Regardless of the war of wors, the bookies have leapt onto the story and are apparently convinced Ritchie is all but a Hammer.
Interestingly, however, there is no suggestion that Callum Wilson will be joining him as he doesn't feature in their odds list.