By CandH's northern man Terry Robbins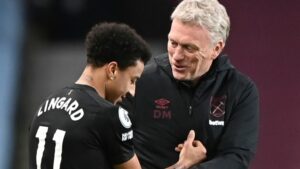 Jesse Lingard is set to turn his back on Newcastle for West Ham because he believes he is likely to get more games under David Moyes than Eddie Howe.
The player has learned that he has no chance of a contract extension at Old Trafford despite serving the club all his life – a decision which has made him a very rich man.
But he, Edinson Cavani and  Juan Mata have had it made clear that contract extensions are not likely under a plan set in place by Ralf Rangnick.
Lingard has lived with uncertainty since his return to Manchester and he is now at a time of his life where minutes on the pitch are of more importance than finance and under Moyes he looks certain to become a regular first team player.
The two men have never made any secret of how close they are and the club has made it clear to us that the 29 year old has constantly remained a serious option for the manager.
We were told: "He tried very hard during the winter window and nothing has changed over the last few months. We would hope it will happen quickly and that Jesse realises how important he will be at West Ham.