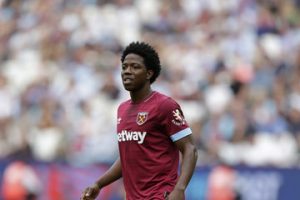 Carlos Sanchez is looking to make a major step back into the West Ham frame at Spurs this weekend.
The Colombian has been sidelined for nearly seven months  after making just five PL appearances before suffering a major injury in the EFL Cup game against Macclesfield.
At 33 and with a year in front of him he's keen to make an impact on the team but knows he has a big job in front of him.
He got a bad press and fell out of favour with the fans after making a defensive error against Wolves which handed the midlanders a 1-0 win at the London Stadium.
It was a costly mistake and represented the third defeat in our four game losing start but he believes he has the manager's confidence and is looking to be involved against Spurs.
He will be the second of the long term injured to do so in successive weeks should the manager call on him after Jack Wilshere's cameo appearance last weekend.
Sanchez told the West Ham official site: "Now I'm back all the people support me and the manager said that too. I'm really happy to hear that.
"It's a big game a new stadium. I hope to be in the squad. I'm not sure but I'm going to work hard to have a chance to go to that game."