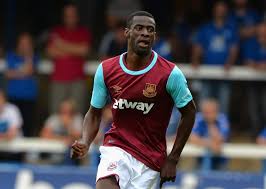 Pedro Obiang has signalled a change of Hammers fortune belieiving they are on their way back – and he's keen to play a part in it!
After a fine performance against West Brom it looks as if hs time may finally have come.
He told the official site: " "Maybe the international break has come at a bad time for me! But I will keep working hard and then we will see what happens.
I knew when I signed for the club that it would be a battle to get into the team and I spoke with the coaches who have told me to keep working hard and I would get my chance."
This is the spirit of the West Ham players. We all need to work hard. I have been patient and waiting for my chance to come back.
I am very happy to be back in the team and when you are playing well and you can help your team it is good for everyone.
We have lost many games before the Middlesbrough game and it has been difficult for me but I am happy to be back and to help the team get a draw."
We created many chances during the first half and showed the same kind of spirit that saw us have such a successful season last year.
I think back to the game against Liverpool when all the team came together and we are starting to get back to that kind of performance."