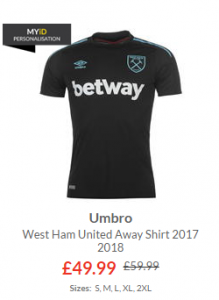 Newcastle owner Mike Ashley's Sports Direct website is undercutting West Ham's official club store for the new away shirt by as much as sixteen pounds.
The new away adult shirt retails for £55 on the official club store but adding a name to personalise it adds another £15 while delivery is £4.99 bringing the total to a potential £74.99 if bought online and delivered.Season ticket holders are able to get a 10% discount on the Umbro Shirt.
Sports Direct is selling the same shirt for 2017/2018 Away Shirt for just £49.99 online and charges just one pound per printed letter meaning to have the name REID or AYEW printed on the back with a further £4 for a number to be printed on the back. This personalisation would cost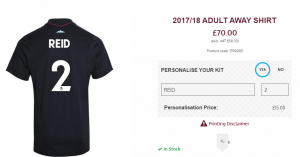 as low as £8 for a four letter name compared to the Hammers £15. With £4.99 standard delivery, this totals £62.98 but with a four letter name only it would cost £58.98.
A source close to the club says Sports Direct can only be making a margin of £2 excluding VAT on the shirt and football shirts are often used by the retailer to drive fans into the store.  Umbro sets the recommended retail price at £60 of which £12 is VAT.  We understand that £17 is available to the retailer from the remaining £48.