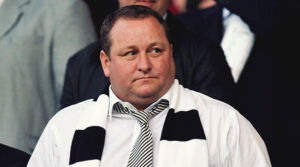 Newcastle owner Mike Ashley has become a surprise fans champion by calling on the Premier League to review its pay-per-view live matches in the UK and knock £10 off the present £14.95 charge.
Ashley voted in favour of the current agreement,  but has explained that it has now been overwhelmingly rejected by the fans..
And he made his reasons clear for giving a thumbs up to the plan saying: "This was because there were no realistic or any viable alternatives put forward to enable supporters to watch matches."
He added: "Charging £14.95 for single televised matches in the current climate it is not acceptable to any football fan."
The pricing will be debated at a Premier League shareholders meeting on Tuesday.
"Supporters have overwhelmingly rejected this offer and the Premier League must now act," Ashley said.
"Why not make it much more accessible at £4.95 per match until Christmas?"
ClaretandHugh says: The Premier League really does have a habit of making wrong decision after wrong decision and the £14.95 charge was always going to show them and the clubs in the worst of lights. Such has been the contempt of the fans at being asked to cough up such a sum that many have said they would give the money to charity instead. At a time when Marcus Rashford is organising a national campaign for hungry kids to eat properly, the League chairmen – Leicester City excepted – led by PL administrators, vote only to fill their own coffers. They have the chance to put things right – although we will always know what they really wanted – at Tuesday's meeting. We expect them to and hopefully, they will go for the Ashley suggestion of £4.95 which seems about right seeing as the cinemas showing our weekend game only charged £6.99.