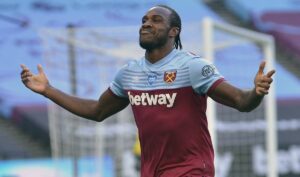 Michail Antonio has made it very clear he needs nobody jumping on his back – he is very aware of his situation right now.
He's naturally come in for a bit of stick over recent games with his natural game appearing to have forsaken him.
He is without a goal since October when his single effort beat Spurs so Wednesday night would be a great time to pick up the thread again.
David Moyes has made it clear over and over how important the No9 is to the team and how he sparks the rest of the squad when he's in his best form.
Though there remain doubts over the game it seems likely from what we are hearing that if necessary the Hammers will put out a weakened team if they need to.
And the central striker is determined the team will give their everything after only grinding out games over recent  months.
He told the official site: "I am confident in my ability, so I don't need anybody to jump on me because I am jumping on myself already.
I'm a person who demands the best from myself and I am getting frustrated in myself that I have not scored in so many games, so you don't need to get on my back as I'm already on my own back!
"I am going to go out there, give my all and hopefully this week I can put the ball in the back of the net for me, for the team and for you guys.
"You can see it in the last few games we've managed to grind out some results, but our performances have dipped and we've not kind of lived up to the standards we set at the beginning of the season.
"The positives we can take from it are that, even though our performances have dipped, we haven't dropped a long way down the League table, so when our performances do become better, we're in a good place to bounce back."