By Hughie Southon
Mikey Antonio is becoming resigned with never getting decision when he is nudge, pushed and on some occasions flattened.
Goalkeepers meanwhile continue to be totally over protected – a scenario never better displayed than when Mendy cheated yesterday.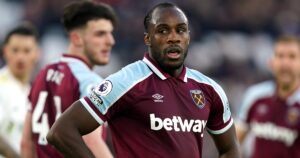 Strikers always seem to get to raw end of the stick when being challenged and over the last two or three years Mikey has been as big a victim as any.
However, as time passes he is becoming resigned to the fact that he won't be getting decisions he should as was demonstrated in the fame against Chelsea yesterday.
It was noticeable in the first half didn't even appeal when there was contact between himself  and Thiago Silva and he has admitted he realises he is probably at a stage where her barely things it realistic to make any sort of appeal
Commenting to www.whufc.com after the game at Stamford Bridge he explained: "It's got to that stage where I'm giving little nudges and he's getting free-kicks and I'm getting my nudges and I get nothing.
It's been happening for the last three years so I've just got to deal with it, move on and see what happens afterwards, so it's very frustrating.
The most disappointing thing is that we've got nothing from the game. If we'd got a draw out of that then we'd be disappointed anyway, but we'd be like, 'alright, at least we've got something' but the fact we've got nothing to show from it, it's hard to take."