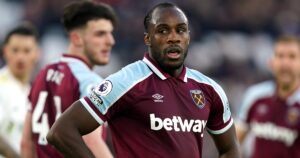 Michail Antonio is all set to end his career at West Ham – a scenario he has addressed in the past.
And on his latest Footballers' Football podcast he has made it clear that – despite Newcastle being linked with almost every player around – he has no desire to move to the north east  at this point in his life.
That led to plenty of banter between himself and Callum Wilson who was also on the broadcast with Mikey giving as good as he gets.
He made is clear that he is enjoying a lot of new experiences at West Ham and to be honest it seems impossible to imagine the club without Mikey who has been outstanding for us over the last seven years.
His current contract runs out in 2024 although there is a year's option included which would take him into his mid thirties.
Discussing such a possibility as joining the Magpies the pair swapped banter:
Antonio: "Right now, I'm happy at West Ham, I'm enjoying my time here, playing week-in, week-out, scoring goals, playing in Europe – new experiences for me.
"I wouldn't be up for it right now, no."
Wilson: "It's just as well Newcastle don't want him! We've got a goal scorer already. We don't need Michail.
Antonio: "You can tell he's feeling the heat already! I'm not coming, it's fine."