By Gonzo
Ahead of Saturday's match between West Ham and Chelsea, Divin Mubama has been spotted training with the first squad. This appears to have caused quite a stir amongst various publications, with many putting 2 & 2 together to arrive at the figure of 5.
It's easy to look at a selection of hand-picked training ground images and conclude that David Moyes will be drafting Mubama into the first team. However, I think too many are reading too much into what is a practice kick-about.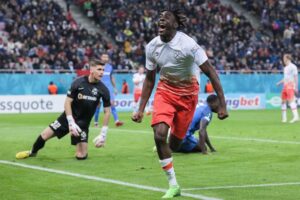 I would not be confident of Mubama featuring in the game if West Ham were playing against Elephant & Castle Reserves, so I certainly don't believe Moyes will include the player against Chelsea.
This is not reflection on the Academy stars ability, it's based purely on David Moyes. Mubama might make it onto the bench for this Premier League clash, but I'd wager it's more likely we'll see two goalkeepers in reserve rather than an academy player.
Gianluca Scamacca is a slight question mark, but Danny Ings has already returned from his time on the sidelines due to a knee injury.
Michail Antonio is the only striker in the squad who is fully healthy, but it's not inconceivable that Moyes will have all three senior strikers available.
With that in mind I think Mubama may well have to be content with participating in a training game. David Moyes is not adverse to playing mind games with opposition managers, it may well be the training ground pictures were intended to throw Chelsea off the scent.