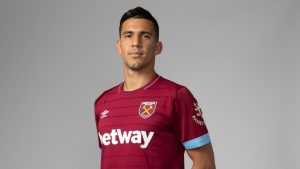 Hammer Fabian Balbuena is disappointed that comments he made in an interview to a radio station have been taken out of context and misquoted. The 28-year-old defender was reported to have told Monumental 108 AM, relayed by Ultima Hora that many West Ham players do not want to play.
However, sources close to the player have this afternoon reached out to Claret and Hugh to set the record straight.
The Paraguayan player is said to be concerned that his club and West Ham supporters will think ill of him because of the misquotes attributed to him.
W are told that the radio station cherry-picked parts of a longer interview and the remaining segments were lost in translation.
Balbuena was trying to explain that some West Han players had valid questions about the Premier League's Project Restart proposals and didn't mean to suggest they didn't want to play or were threatening not to play.