It never rains when it can pour (part 5)…
Poor old Vlad, it appears that our doughty right back has something called plantar fasciitis. He has been out injured since our 4-0 win over Nottingham Forest at the end of last month.
Despite his in and out form during the first half of the season, Coufal has improved massively over the past month or so, and we've really missed him over the last two weeks.
The Czech's absence was originally put down to a heel injury.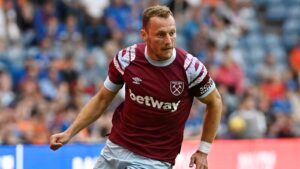 And now our supremo has confirmed that that the Irons defender is in fact suffering with plantar fasciitis, as quoted by various newspaper sources
"Vladmir Coufal has got plantar fascia, I don't know if he is going to be back in the week but he is improving. He is a boy who really wants to play. He's desperate to get out and show what he can do but he's got a foot injury. I don't think he'll be back this week, Vlad."
Worryingly, it can take up to 6-12 months to completely heal as there is no instant fix for it. Treatments can include physiotherapy sessions or steroid injections.
There are also specialist treatments available including the scary sounding extracorporeal shockwave therapy and even surgery in extreme cases.
Let us hope it is not as bad as being portrayed, as we have more than enough problems at the moment !