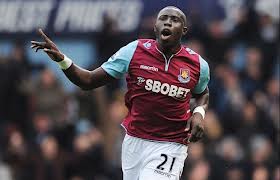 West Ham's Mo Diame has taken a serious 'pop' at the two Davids and his OWN TEAM MATES  – in national news reports today (Thurs).
 Appearing to forget that he showed serious form inconsistency himself, the Senegalese – regularly linked with moves away from the Boleyn in resent months – has waded into the owners and his colleagues.
In what may be seen as an outburst aimed at getting a move this summer Diame  attacked the owners and Sam Allardyce for failing to bring in sufficient targets this time last year.
And he even claimed the players who were starting knew that would be the case and so did not put 100 per cent into training or even in games as they thought the results were inevitable.
Speaking to a French magazine which has been re-published freely in our national media he snapped: "It was a very bad start and we made the mistake of not recruiting [sufficiently]
"We went through the season with almost the same players [as last year], which is never good because the players think they already know who will be wearing the shirt.
"Also, people didn't necessarily give 100 per cent on the field, that's what got us in trouble.
"In January we didn't buy much but their presence was enough.
"Now if you didn't give 100 percent in training, someone else will play. It was felt on the ground and we had the results."
Diame has been linked with a move away from Upton Park this summer but his hopes of a switch to Anfield or the Emirates Stadium looked very unlikely earlier.
This outburst may prove even more counter-productive with clubs taking a serious look at the contents of the interview.