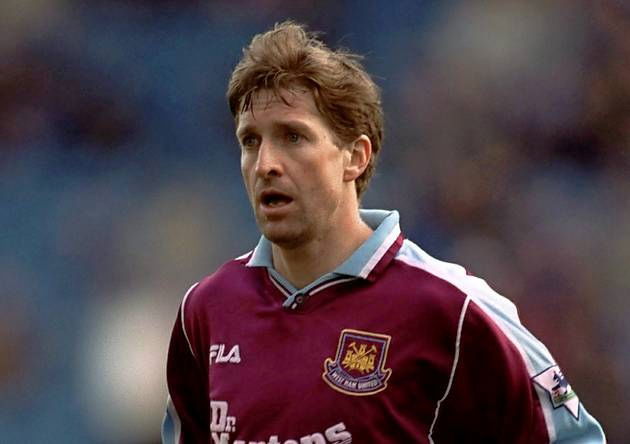 ClaretandHugh blogger JOHN MONCUR couldn't be happier with today's announcement that Julian Dicks has joined the coaching staff.
And in this blog he talks about the shared history 'The Terminator' has with Slaven Bilic.
He also suggests another appointment if Slav wants to add even more passion to the Hammers squad! 
WOW!
That was my immediate reaction to the news that Dicksie had joined Slav's backroom coaching staff although it's not a huge surprise because the two were big mates during their time together as players.
Julian is a Hammers cult hero and both he and Slav shared the same approach to the game – they are fighters, hard men who give the lot – precisely what's demanded by every Iron supporter.
It's absolutely great to see the club being reclaimed by the guys who meant so much to the fans and who have everything West Ham to offer.
I'm a big mate of Julian's and was pretty close to Slav during his time here and what's happening is brilliant because beyond anything else there is going to be real discipline in the dressing room.
They both admired each other's attitude to the game – they were two of a kind so we can expect them to bond again very quickly. I'm loving this close season. First and foremost I'm a West Ham nut and the arrival of guys like Slav and Dicksie is just fantastic.
'The Terminator has revealed that he will  be involved on the training pitch and in the meetings . Trust me he will have a real input. This is not a cosmetic, window dressing appointment. Julian brings his heart and soul to everything he does.
I am absolutely convinced now that we will see a return to the West Ham United we all love and carry in our hearts with Slav producing the passing game for which we have always been renowned whilst adding the steel an guts which Julian typifies.
We are going to see some real passion and if Slav wants a bit more he knows where I am. Slav mate, I'm waiting for the telephone call. 🙂