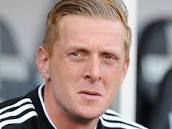 Gary Monk reckons the Irons didn't show enough ambition in their pursuit of Wilfried Bony and that his Swansea are the beneficiaries.
The Ivory Coast  striker signed from Vitesse Arnhem in 2013 but the Irons were also in the chase according to manager Sam Allardyce.
Finally we signed Andy Carroll from Liverpool for £16m with Allardyce claiming he did not have the funds to pursue both players.
Monk has suggested this shows that West Ham did not want Bony enough, while the Swans pushed out all the stops to get their man.
The Swansea boss told Football 365: "It's the first I've heard of it, but if that's what they were doing they didn't really want him enough.
"We obviously pursued Wilfried, he's committed to us, we're committed to him and the rest is history."
Bony has been in impressive form since moving to the Liberty Stadium, scoring 31 goals so far, and has been linked to a number of Champions League teams, while Carroll has struggled with injury during his time at Upton Park.
Despite the difference in form, Monk refuses to be drawn on who the better player is.
"They've got different strengths and they're two very good players, and I think you'll see in games this season what they can offer both teams," he added.
"I don't look at who is the better player. I look at what Wilf does for us and they will concentrate on what Andy Carroll does for them.
"We managed to sign Wilfried and we've done a lot of development with him as far as the team is concerned.
"He plays to our strengths, the team to play to his strengths and it obviously works for Wilfried and Swansea City."