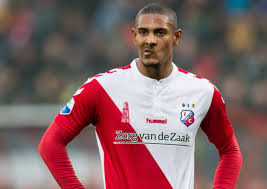 Dutch journalist reckons Theo Janssen reckons Sebastien Haller is startiing to show  the same problems at Ajax as many Hammers believed he was guilty – disinterest.
Many reasons and excuses were given for the Frenchman's poor form at the London Stadium from the one up system he was forced to play right through to a bad attitude.
And he believes that nothing is going to change despite the player giving all the signs of a player who really doesn't want to be involved.
Haller  left East London in January with a surprise move to Ajax, surely hoping for a fresh start and a rush of six goals and five assists suggested he had found it..
However, having looked to have taken his chance of another start  the doubts are now starting to creep in again.
Janssen may have led the discussion but it sounds as though he won't be alone in his worrying conclusions.
"Ajax play the best with Tadić in the striker's box, but they bought Haller for such a large amount," he told RTL7.
"In the league, he will always play, and he will continue to score his goals, because Ajax are much better than their opponents.
"He's a bit uninterested. He doesn't seem to be in the mood for it, and he's complaining to everyone and everything."