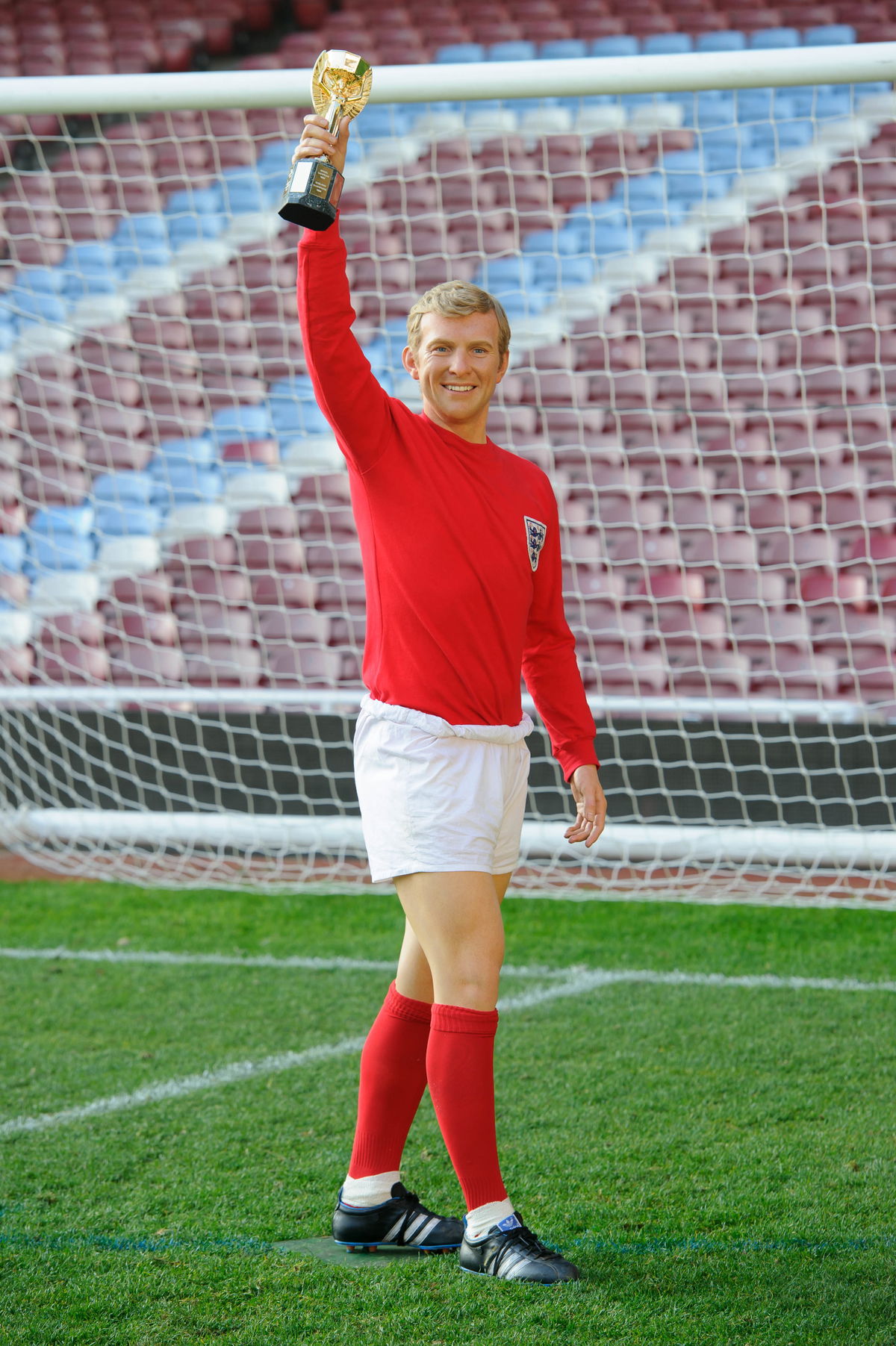 Madame Tussauds London today unveiled the new wax figure West Ham's immortal hero – Mooro 'back home ' at the Boleyn!
 The figure was revealed for the first time on the pitch and started a  journey into immortality at the stadium Mooro became the club's greatest legend and  a national treasure.  
He is seen in jubilant celebration after leading England to a 4-2 victory over West Germany.
Smiling triumphantly  in vintage England kit the figure  holds aloft a replica of the Jules Rimet Cup – faithfully replicated by Tussauds studio artists.
 One of the first fans to meet the Bobby figure was well known 12 year old Jon Jo Heuememan who said: "It's quite emotional – Bobby's come home."
Another Kelly Ward, 41, from Reading, added: "It's amazing, seeing the figure gave me goosebumps it's so lifelike, everything is just spot on".
 The figure's creation was the result of apublic vote last year, with the Hammers legend takoing over 90 per cent of the vote.
Nicole Fenner, PR Manager at Madame Tussauds London said: ."We decided to let football fans decide, and there was overwhelming consensus with Bobby Moore beating other legends like Ronaldo, Maradona and Pelé with the lion share of votes.
"It was a total landslide victory, and we're delighted to be able to introduce him to football fans this morning on a pitch he knew and loved.
Moore undoubtedly holds a special place in the nation's heart and we can't wait for fans to meet his figure in the attraction from tomorrow."
 West Ham United co owner David Sullivan said: "It's fantastic to see Bobby's wax figure beginning its journey at the Boleyn Ground, where he spent so many wonderful years with us."
He added: "I'm sure West Ham United fans are going to love it and that their support made this happen in the first place, makes it all the more special. As a Club we will forever honour Bobby's memory and I look forward to seeing his latest wax figure in person." 
Roberta Moore, Bobby Moore's daughter, who is already planning a trip to Madame Tussauds London to see the figure first hand, commented: "I remember going to Madame Tussauds with my dad when I was a little girl for the unveiling of the original wax figure so this has brought back very fond memories.
"Madame Tussauds have really done an amazing job, the new figure really captures his smile which made me cry! I feel very proud."