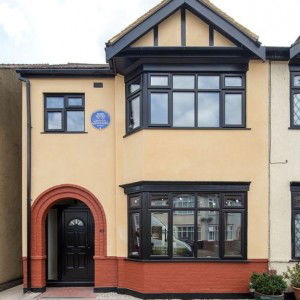 Bobby Moore has been honoured with a blue plaque on his childhood home at 43 Waverley Gardens in Barking, east London where he first learned to play football.
Greg Dyke, who is an English Heritage Blue Plaque Panel member, said the plaque "honours… the house and the streets where he grew up and first learned his footballing skills".
West Ham Vice chairman Karren Brady was present to represent West Ham and said on twitter "On behalf of West Ham United was delighted to represent us at the unveiling of the Bobby Moore blue plaque today"
Moore, who was born at Upney Hospital in Barking in 1941,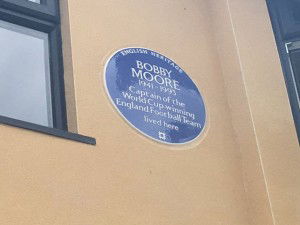 developed his footballing skills while playing with his father and uncle in Greatfields Park, near to 43 Waverley Gardens.
He was living in the house when he won his first silverware, the Crisp Shield in the 1950-1 season, and when he joined West Ham United at the age of 16.
Moore's father, known as "Big Bob", watched the 1966 final on television at 43 Waverley Gardens, although his mother was too nervous so spent the game potting plants in the garden. Mooro is the first footballer to ever receive a blue plaque