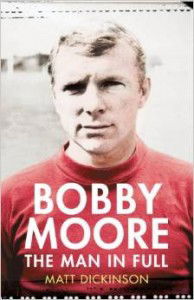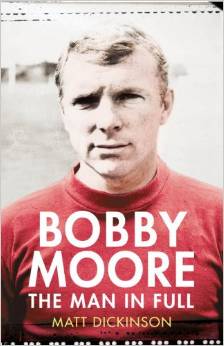 It's very rare for me to finish a book in a couple of sittings but Bobby Moore – the man in full 'demanded it!
Matt Dickinson's brilliantly researched and written tome is a must read for everybody who watched the main man or wished they had. This book takes the Moore legend to a different level.
The words of his friend Michael Parkinson – the legendary TV interviewer – summed it all up perfectly for those who believe they 'knew' him.
He is quoted as saying – almost from the book's outset: "He was a curious chap. You loved him because he was so friendly but, when you stopped to think, you realised you knew bugger all about him."
His first wife Tina – who probably knew him better than anyone – even refers to him as a "strange man" and his second, Stephanie, explains how he stopped the car and got out when she cried over the return of cancer to his body.
She makes it clear that such naked emotionalism was unacceptable to Bob – a man who kept several doors to his personality permanently closed.
Several of his contemporaries – Geoff Hurst, and Alan Ball among  them – tell early on in the book of how they received phone calls asking how they were when he was close to death.
He didn't mention he wouldn't be around for long – that wasn't his way. Just a phone call asking how they were was his way of saying goodbye.
The book tells of despite their being tremendous professional respect between him and legendary manager, Ron Greenwood,  there was also a deep rooted friction between the two.
It tells of his close friendships, notably with Jimmy Greaves, of his shocking insomnia which followed him through his life following the first cancer battle, and his fierce boozing habits.
It tells of his determination to get the very best deals for his services at the Boleyn, of crossing swords with Greenwood and later Sir Alf Ramsey, and of course of his glorious afternoon in the sun and showers of World Cup Final Day.
The book doesn't shirk a thing and his later life gives a serious insight into the man's personality and his horrible business ventures.
It tells of his years at the Sunday Sport with David Sullivan commenting: "We paid him decent money – it worked for both us.
Sometimes it's a very hard read at a personal level for those who loved and knew him and also for Hammers supporters who will perhaps see for the first time the truth behind many of the years he spent with the club.
But it's an essential read if you want the mythology of Mooro stripped away and the humanity of the man revealed.
A rating from me out of five? SIX!
This is truly perhaps the best football book I have ever picked up.
We will be announcing the winners of our two copies on Tuesday. If you haven't entered go to https://www.claretandhugh.info/your-chance-to-win-the-best-mooro-book-ever/
Bobby Moore  The Man in Full by Matt Dickinson is published by Yellow Jersey Press @ £20