My greatest footballing hero – and a man I was proud and privileged to know and work alongside – died 21 years ago today.
This is a blog and tribute I wrote to him on his 20th passing last year. Bless you Bob – FOREVER REMEMBERED
By Hugh Southon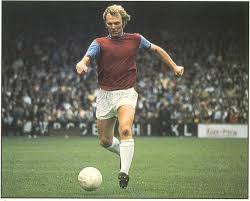 Idols come and icons go but Bobby Moore's legendary status will never die!
Not many people have got it all…amazing ability, charisma, dignity and charm – Mooro was one of a very select few.
I first watched him play from the old west enclosure. The natural ability, composure on the ball, timing in the tackle and impeccable ability to pick out the perfect pass were the hallmarks of his golden game from a very early age.
He became an obsession in my life. I lived for Saturday afternoon's home and away to watch a man who for me was as big in my life as The Beatles, The Stones, The Who and all the others. And trust me they were BIG!
We all dream what seem impossible dreams and mine was to one day meet Mooro…not for an autograph or a brief handshake but as a friend.
I wanted to ask all the questions that hurtled around so many minds – where did he learn the game? When did he realise he was so naturally gifted, did he ever believe he'd become West Ham and England skipper, win a World Cup and so on.
I was inside the old stadium on that glorious afternoon when the main man hoisted the Jules Rimet trophy over his head as I had been for the two previous years when the Hammers had won the FA Cup and Cup Winners Cup. Mooro's hat-trick of trophies.
Great days, unforgettable days but it was years later – after his retirement from the game that my personal dream of meeting him and getting to know him came true.
A new Sunday newspaper – owned ironically by David Sullivan and backed financially by David Gold – came into being in a small North London Street.
I was freelancing for it – among others – and eventually became deputy sports editor at the same time as David Sullivan announced Mooro as our new sports editor.
My first encounter with the great man saw me – a 43 year old star struck journo – clutching the iconic photo of him on the shoulders of his World Cup winning team-mates and asking him to sign it. Embarrassing or what?
But Bob was charm personified, gave a small smile and said: "So you are gonna be the ghost writer for my column are you Hughie?"
I felt totally inadequate to look after the great man's thoughts and commit them to print every week – he had been, after all my idol for so many years.
But Bob was a gent and as the weeks turned into months we would trek to matches together and write column after column together.
He never once lost patience…always remained composed and not once would he say a bad word about anybody.
I have always said of him that he was a greater man than he was a player…I can pay him no higher tribute.
One column we did sticks firmly in the mind when we were discussing his captaincy of England and what it meant to him He fixed me with that mesmerising stare and said: "England captain? What's that all about?
"The other 10 are top players so we're all captains. The England team should captain itself – I just carry the ball out!"
Bobby Moore was the most self-depreciating individual I've ever met and would have laughed at a statue of himself outside Wembley Stadium.
On the very subject of statues and Sir Matt Busby he once said: "Don't need one of those – all the best memories are up here, pointing to his forehead."
My last memory of Bob was of him in the Hawthorns press room where he was reporting the Baggies and Hammers for a London radio station.
He was drinking tea from a cracked cup, looking quite unwell but as ever putting a brave face on things claiming he was suffering a bout of winter flu.
I remember thinking: "This is how we treat our heroes in this country" and felt the lump growing in my throat.
Four months later Bob had passed away – the winter flu had been the return of the cancer he had battled all his life. Bob never made a fuss!
Today on the twentieth anniversary of his passing I salute the man I consider then greatest sporting icon of my lifetime and say: "Thank you for the memories Bob on and off the field."
You were an unforgettable man and I'll see you later!