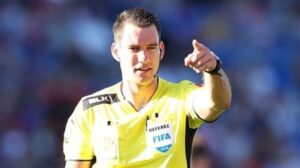 By Simon Leyland
It never rains but it pours (part 8)
Ahead of our "six pointer", must win, must not lose, respect the point (delete where necessary) game against Forest on Saturday, we have been handed another blow. This time it is not an injury concern but the choice of the man in black…
Yes, it is the Jarred Gillet.
This was the incompetent buffoon who officiated (?) in our game at the City Ground last August against Saturdays visitors.
We had a perfectly good Said Benrahma goal unfairly chalked off that would have put us 1-0 up and to add insult to injury he then failed to see an obvious penalty in the second-half, although Stockwell Park overturned it. Not that it did us much good as Declan Rice took his worst ever penalty and missed.
But cast your mind back to the away game at Chelsea when Maxwel Cornet (remember him) had a last minute equaliser ruled out – Yep, it was him again.
Not that I believe in such things, but it would be fitting if the universe was once again balanced by him giving us three iffy penalties. But the way things are going at the moment, we would probably miss them !
So, an already potentially difficult game has just got a bit harder.