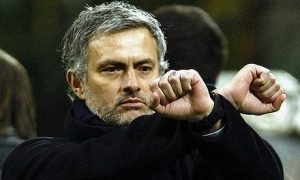 Watch Manchester United boss Jose Mourinho talk about former Javier Hernandez:
"I think Chicharito will have twenty goals easy, even coming from the bench for the last 10 or 20 minutes, he will have 20 goals. He is a guy that naturally the ball comes, rebound here, rebounds there, boom – goal. The goalkeeper saves, he goes there, tap in – goal. The cross is coming, he anticipates the first post header – goal. And not even coming from the bench, we have this kind of player that scores 10, 15 goals and gives you 10 or 15 more points."
His comments were made in April this year as he explained he admitted that his team is sorely lacking a real goal poacher like Manchester United Fans Favourite Chicharito.
Hernandez was let go by Louis van Gaal in 2015, a decision that was unpopular with fans at the time.
Speaking yesterday Jose Mourinho reportedly said "I am thinking about West Ham for the first match of the Premier League.They have got Joe Hart, Chicharito and Arnautovic. It looks like they are playing to win the Premier League too."
Jose Mourinho on Javier Hernandez: "I think Chicharito will have 20 goals easy" pic.twitter.com/GiILsg9FVj

— ⚒⚒⚒ (@ClinicalAntonio) July 20, 2017