David Moyes admits the Hammers are still trying to get up to speed ahead of this weekend's Premier League opener against Manchester City.
Pep Guardiola's side are visiting the London Stadium on Sunday in the first game of the season.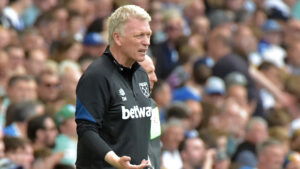 The Hammers have endured something of a rocky pre-season, winning just two of their seven games, against Servette and Ipswich.
And Moyes accepts that his players are not really ready for the start of the Premier League campaign, although he insists that the same will be true for City, potentially opening the door to a shock result this weekend.
He told reporters: "I think so. Whatever you say, we are all going to watch the first game of the season tonight, tomorrow, and there is a good chance a lot of the teams won't be ready. I would have to say we are not ready yet.
"We are still trying to get a rhythm, trying to get our exactly how we are. I think you might find a little bit of the same [with City]. The problem has been the players going away on international duty and only coming back and not having much time. You may well see one or two, I wouldn't say strange results, but may not be quite as fluent."