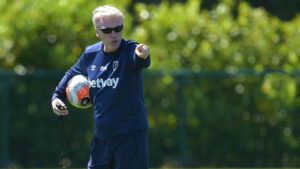 The Premier League is meeting again today as they move closer to a restart on 17th June with West Ham due to play their first fixture against Wolves on Saturday 20th June.
On the agenda will be whether top-flight clubs will be willing to play certain matches at neutral venues on police advice based risk assessments.
They'll also try to come up with a plan to finalize the league table if the season cannot be completed using unweighed points per games but the potential for scrapping relegation is not expected to be on the agenda.
Clubs will also vote on whether to allow up to five substitutes during games. West Ham manager David Moyes is reported as he doesn't want the Premier League to approve the use of five substitutes during games. Moyes believes rules can't be changed halfway through a competition.
A statement is expected later as to what decisions have been made by the twenty-member clubs with fourteen votes required to pass any decision.