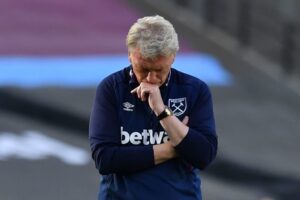 David Moyes admits he is an admirer of Brentford's achievements in their first season at the top level in over 70 years.
With 33 points from 31 games the Bees look safe and will be looking to build on their positional money against the Hammers.
With Ivan Toney at centre forward and Christian Eriksen giving the team a radically new approach they are Premier League newcomers who having been giving it a right go in their first season.
The 4-1 win over Chelsea last weekend was the high spot of a season which many believed would see them go straight back to the Championship.
But Moyes believes they looked a good side last yea and that they have really consolidated in the Premier League.
The result at Chelsea will be very much in their minds and the Hammers will need to be at their best in what looks a tricky game.
Speaking to www.whufc.com Moyes said: " I think Brentford have done a great job.
Overall, I think we've all been looking at Brentford, who maybe have just missed out on getting into the Premier League over a couple of seasons.
I think they've built up enough momentum. I think they know exactly how they play. They've changed a little bit I think in what they do.
I think having a look at the Premier League has given them a chance to see what they need to do maybe to stay up and I think they've done that. I think it looks as if they'll stay a Premier League club this year. I don't see any problem with that.
You have to say they've done a really good at Brentford. And they've got a good model. They're a club who decided one way they wanted to go and they've worked on it for a few years now.
I think you need to give a lot of praise for what they've done. You've seen that staying in the Premier League is not easy when you look at the quality of the teams and the challenges you've got, so they're doing a really good job at Brentford."