By Hughie Southon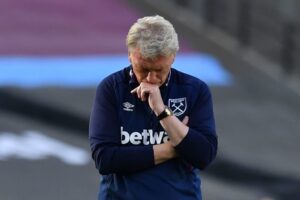 David Moyes accepts that those fans who see him as a cautious manager are possibly correct.
The manager has regularly bee attacked for being defensive but has been explaining his approach during the pre Nottingham Forest presser.
He explained:  "I think it's probably got some truth in it. But I also don't think you'd last this long in management if you're only cautious with it. Were we cautious last year? We've not changed much from last year.
So if you're saying we're cautious now, we were the same last year. But I'm not enjoying watching us not score. I've got to find a way to say if we're not going to score, then how are we not going to lose.
If we're going to keep losing then I won't be a manager, so I have to find a way of getting the balance right. Last year we took on the big teams and beat Liverpool, Chelsea, we've had some really big games where we've run teams close away from home.
Even this year at Anfield we were very good. But we're back to where we were two years ago when we were going through games trying to get points.
I would take the word cautious but you call me that for this season, you'd need to put it next to the last two years because not much has changed.
If you'd said we'd gone and brought in another four centre-halves to play different, I'd say who are they? We brought in Paqueta and Scamacca and we tried to bring in attacking players to help us. "