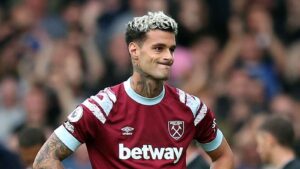 By Hughie Southon
Gianluca Scamacca will be starting against Larnaca tomorrow evening at the London Stadium.
Manager David Moyes chose to answer the question many of us were asking earlier today given the speculation surrounding the player right now.
Having not been used off the bench against Aston Villa at the weekend and following inmages of him apparently looking despondent, there had been much talk about his future at the club.
It always seemed a little outrageous so soon after his arrival anyway despite the manager suggesting that he wanted more from him.
Commenting at his pre-match presser today (Wed) Moyes said: "Thursday is a good chance for Gianluca [to start].
"We want him back, he's got something and we like him a lot. He's a great boy and we really, really like him and we want him to do well.
"We want our Gianluca back to the one we had from August to November. The one we've got at the moment looks slightly different and we need him to get back to those levels because at those levels we could use him and he scored some goals and had some contributions when he was still growing into the league and getting used to it.
He's missed quite a lot with injuries and illness, etcetera, but we want him to get back.
"Gianluca is an Italian international and he has so many good qualities. We really do like him a lot, so we just want to see them come out."
"I think we find it with everyone who comes to the Premier League has to get used to the level of intensity – it's not anybody from Italy and it's not just Gianluca," he said.
"You hear me, but you certainly hear other managers say it takes players time to adjust to the level, the speed and intensity and the regular demands of the games Premier League."
"Do I think he's going to come back soon [to his best form]? I hope so."