David Moyes has paid a glowing tribute to Marko Arnautovic as the club prepare to take on Rapid Wien in the Europa League.
The Hammers will continue their European adventure on Thursday against the Austrian side.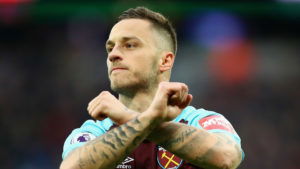 Arnautovic played for Rapid when he was a youngster, before eventually making a move to FC Twente, where he made his professional debut.
Arnie, of course, went on to become something of a cult hero at the Hammers and was a key man under Moyes in the manager's first spell at the club.
It is perhaps little surprise, then, that the boss was asked about the former Irons striker ahead of the clash with the Austrian side.
Quoted by the club's official website, he said: "Did you ask me about Marko Arnautovic there?
"Oh, Marko is a huge favourite at the club, was a huge favourite with me because I saw him as a bit of a challenge and I was looking forward to (figuring out) how to manage him and how it would work.
"And he done great for me. He is a great player, strength, power, pace and someone we'll always welcome back for how well he done for us here."
Arnie left the Hammers to move to China but is now playing for Serie A side Bologna.
He scored 22 goals in 65 games for the Hammers in total, while also laying on 12 assists.