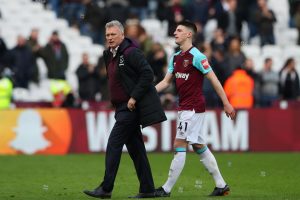 I've just binned a piece I wrote on the David Moyes comments about Declan Rice's boob for Arsenal's second goal because I hadn't seen the full transcript.
Having done so I'm disgusted: Here it is:
"Up until 81 minutes we were looking to be well worth of a point. We had defended well, we had our moments in the first half where Marko Arnautovic managed to get a shot away a couple of times but, we've all been young players and a young player has made a really poor mistake for the second goal.
I hope he learns from it because he has got big potential [Declan Rice] but I think it really flattened the team.
Then asked if there was a communication error he said?
No, I don't think there was and anyway and if there was and you're a centre half – and I have been one – the ball is played into the six yard box then the last thing you do is let the ball go. You talk about it after, you head it clear and to be fair, we had done most things well defensively. We had tried to be inch perfect trying to top Arsenal and we knew we had players who could cause them problems if we had enough of the ball.
 I happen to think that playing young centre halves is probably the hardest position on the pitch and I think Declan has done a really good job but today will be a learning curve for him and he has to show it doesn't happen again.
Because if it does then you won't progress, you have to do it, show you're going to step up.
None of that is on..not in this world or the next and like Slaven Bilic before him when taking him off at Newcastle in one of the very early games  Moyes is the one who needs to be dug out very seriously.
The kid has been brilliant since he arrived – he makes yes, a serious error of judgement, but to be lambasted so publicly in great depth is unforgivable in my world. Dressing room words , yes, but not a public humiliation.
Of course Moyes needed to discuss such a vital moment but to use the words he did against an aspiring talent has me wondering about him in a big way.
Personally I only ever saw him as a short term choice and if he gets us clear of relegation for me that's job done. We move on and find somebody who can combine defence with attack.
As a journalist mate mentioned this afternoon – playing the same way against Saints, Stoke and Arsenal just don't seem right.
The crucifixion of Declan Rice by Moyes was despicable by anybody's standards.