David Moyes insisted the Hammers were unlucky as they slipped to a second defeat of the season against Nottingham Forest.
The Irons were beaten 1-0 by the newly-promoted side, thanks to a Taiwo Awoniyi goal, that ended up deflecting into the bottom corner off his knee as Ben Johnson attempted a clearance.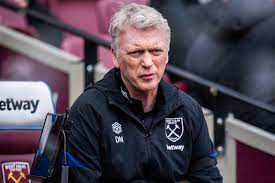 Moyes' men also saw a goal disallowed after Mikey Antonio was adjudged to have committed a foul in the lead-up to Said Benrahma scoring.
In addition to that, West Ham hit the crossbar twice and saw Declan Rice miss a penalty, leaving the Hammers still searching for their first win of the Premier League campaign.
Moyes felt that the Irons' performance was unfortunate, although he declined to give an opinion on the decision to chalk Benrahma's goal off.
Quoted by Football.London, he said: "You're better listening to the referees that do the punditry, they will tell you if they think it should have been a goal or not.
"It doesn't really matter what I think does it? The referee has given it. Maybe on another day.
"Today, we hit the underside of the bar twice, we miss a penalty kick, we get a goal disallowed that was a bit contentious. Today, very little went for us, very little went our way in what was a big game for Nottingham Forest and a big first [home] game for them. They carried quite a bit of luck and we didn't have much today."
Moyes also confirmed that a decision had been made before the game to assign Rice as the penalty taker, although he refused to commit on whether the England star will remain the designated taker throughout the campaign.
He added: "Manuel Lanzini took the penalty kicks last year and scored them, it wasn't Declan. We had Declan in mind today.
"That was one question, it doesn't mean it will be the same all season. We will see, but Declan was the guy that was on the penalties today."