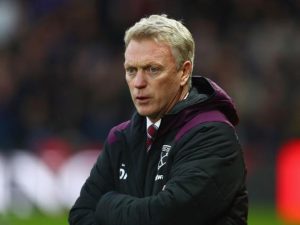 David Moyes reckons the new handball rule has to be changed when the International Football Association Board (Ifab) holds its annual meeting on February 29.
The Hammers boss is still seething over the disallowed goal which cost the Irons a point at Bramall Lane on Friday night.
And he has made it clear that nobody – and presumably that involves us fans – are happy with what most believe to be the craziest law we have ever seen in the game.
We have said it many times but frankly it makes football a laughing stock and an imitation of the game with which so many grew up.
Moyes, Rice, Snodgras an the squad were utterly gutted when the 93rd strike from the Scot was ruled out and now the manager wants something done about scrapping the law as soon as possible.
He has made his position crystal clear speaking at https://www.thesun.co.uk/sport/football/10719023/west-ham-moyes-rice-handball/ where he said: "We need to try and get them to change this ruling.
"We aren't comfortable with it and at the moment there is a big campaign to try and change this ruling.
"There are lots of things we are not comfortable with. There is part of it where it can hit another defender's arm and it won't be a penalty.
"I could argue it wasn't even in the same phase. Declan broke through, then it hit his arm. He went on again, then there were three defenders behind the ball.
"I'd be surprised if there weren't people in Ifab that weren't ex-managers or ex-players but it looks like it is a law that nobody is really enjoying that much."
Ifab updated the handball law for this season.
Now, "any goal scored or created with the use of the hand or arm will be disallowed — even if it is accidental.