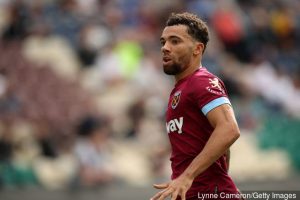 Maybe somebody can explain precisely why David Moyes chose to throw Ryan Fredericks into the action and remove Vladi Coufal from the team this afternoon.
Until I know differently I will assume he was injured because I can honestly not think of any other reason for him to sub the Czech.
But  to leave Ben Johnson on the bench and favour Fredericks to help see the game out was a huge mistake and error of judgement.
I've now looked at the winning goal half a dozen times and it came down Fredericks' side where the full back's involvement was entirely laughable.
The Number 24 was all over the place as before Marcus Rashford poked the ball home after involvement from two other subs Cavani and Martial.
Our sub responsible for a goal carved out by their three replacements – that tells you everything you need to know.
Being entirely honest I thought initially the goal was offside but it wasn't.
That can be seen quite clearly on the you tube highlights which you can take a look at as they are not available to reproduce here.
It's all well and good Moyes blaming his defenders for switching off and to a point he's right but the one who was chiefly responsible was put on the field by him and it was a huge mistake.
Blame yourself gaffer. United's subs were spot on – ours were rubbish!