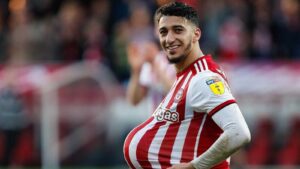 David Moyes may have had second, third and even fourth thoughts about the possibility of moving in on Brentford's Saïd Benrahma given the Alergian's winger's showing in the Playoff final last night.
Like so many before him, Benrahma has been hyped to the skies as a huge player with many supporters who, despite never seeing him play, believing he is a 'must-have' player.
It would be surprising anyway were the manager to go in that direction given the number of wingers on the books and although it's not a great idea to judge on one game, it seemed to me that Grady Diangana is quite his equal after helping to fire West Brom to automatic promotion.
Benrahma made many solo runs, all of which ended in a Fulham cul de sac and produced one truly horrible free-kick which could have changed the game.
Should the Hammers be interested in Bees striker Ollie Watkins, there was certainly more encouragement as despite being in a team which was clearly second best on the night, he showed good movement and pace.
He would certainly appear to fit the bill as back up, or perhaps better, to Mikey Antonio and Seb Haller.