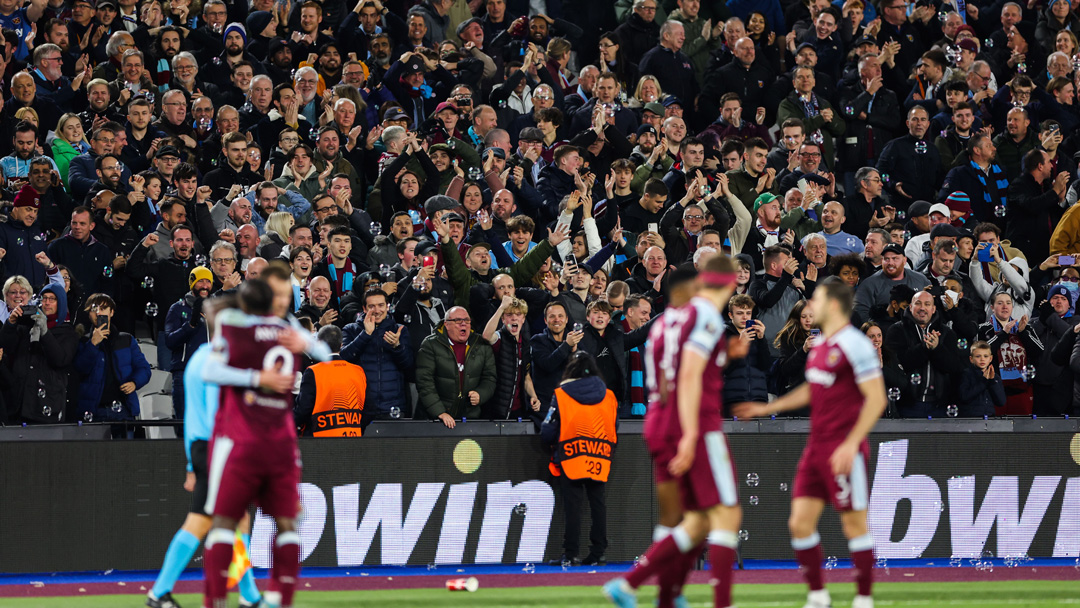 David Moyes has thanks and praised the Hammers fanbase for their magnificent support.
Despite a series of deeply disappointing displays and results the fans keep turning out in huge numbers to give the squad their very best.
There are calls  from some for his departure but the manager is keen to let them know exactly how much it means to have 60 million fans behind the team.
The Hammers have been roared on by the fifth-highest average attendance in world football this season, with 62,449 fans heading to London Stadium for each of the Club's eight home Premier League matches – and another capacity crowd expected for Friday's year-ending derby with Brentford.
West Ham's average home attendance this season has been larger than Tottenham Hotspur, Liverpool, Manchester City and Newcastle United, as well as the likes of Real Madrid, AC Milan, Marseille, Celtic, Rangers, Benfica and Ajax. Only Manchester United, Barcelona, Borussia Dortmund and Bayern Munich have registered higher numbers in 2022/23.
In total, 499,590 fans have attended the Irons' eight home games. Only Manchester United have drawn more people to their stadium and registered a higher average home attendance for Premier League matches this term than the east Londoners.
Speaking in his press conference ahead of the visit of Brentford to London Stadium, Moyes praised the fans for their loyalty and the role they have played in driving the team to consecutive top-seven Premier League finishes and European qualification and last season's UEFA Europa League semi-finals.
And the manager said that support will also be important as he and the players seek to improve results and rise up the Premier League table.
He said: "The home crowd are vital, no matter where you are," he said. "When you look at the clubs in the Premier League and the support they have, that home support is huge, so we've had that as well.
"We've got a stadium where we can hold big numbers, over 60,000 now. We've done our best in the last two years to get it filled more often than not, and we've got much closer to that than probably it's ever been done before.
"We've had some incredible nights in the stadium, whether it be in Europe last year or even this year, we've had some great, great results. We've had some big wins as well, Premier League wins in the stadium, so that in itself goes to bring more people in.
"I've been really keen to bring in new young West Ham supporters. I think we've got a lot of good players here who a lot of the young fans can look up to and the East End of London is a big West Ham area, so hopefully we can keep driving them and getting them to the stadium.
"And again, you have to praise the Club. They've also made tickets affordable for a lot of people to get to games, so a lot of credit has to go to the Club for that."