David Moyes has confirmed that the club have granted Andriy Yarmolenko a few days off after Russia shocked the world by invading Ukraine.
Yarmolenko is Ukraine's national team captain and has won 106 caps for his country, scoring 44 goals, and representing his nation at Euro 2012, 2016 and 2020.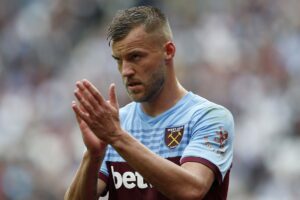 Yarmo has not exactly been vital to the Hammers this season, as he has yet to make a Premier League start, but he has come off the bench a number of times, and has also played in the Europa League.
Moyes has now confirmed that the winger has been given some time off, as he has family who remain in the country, which is currently under heavy fire from Russia.
Speaking to reporters ahead of this weekend's clash with Wolves, the Hammers boss said, per Football.London: "He is not in a good position, he has got a few days off. It is a real difficult time for him and his family.
"I spoke with him yesterday and he was upset as you can imagine and rightly so, we just hope everything goes well and all his family members keep safe.
"We're all saddened by it. The whole world are talking about it. We've just come out of the pandemic and the last thing we want is anything close to a world war."
Per The Independent, there have been 40 deaths in the country after the first wave of Russia's invasion, which has been greeted with condemnation from countries across the globe.